WE ARE IN THIS TOGETHER! Western Australians Stand with China and Wuhan in the Fight against Novel Coronavirus Pneumonia (NCP)
2020-02-18 10:40
Since the outbreak of novel coronavirus pneumonia (NCP), the Chinese Consulate General in Perth has received heart-warming messages of sympathy and support from all walks of life in Western Australia, conveyed through media interviews, newspaper articles, short videos, letters as well as emails and phones calls. Add oil China! Add oil Wuhan! ("Add oil!" in Chinese means "Hang in there!"or "Keep fighting!") They are all cheering for us to win the battle against the NCP.
On 2 Feb, Hon Mark McGowan, Premier of Western Australia, made the following remarks to local Chinese media at the the Official Opening Ceremony for Perth Chinese New Year Fair 2020.
For China and Chinese people, it is now very difficult period of time. Please allow me to bring my sympathies to all Chinese people. I hope that the virus can be contained asap and I hope that WA-China cooperation in tourism, culture as well as economy and trade can recover soon.
Premier McGowan also sent letters to Chinese Ambassador H.E. Mr Cheng Jingye and Consul General Madam Dong Zhihua in Perth to express his support to China and the Chinese People.
More than 100,000 Western Australians with Chinese origin are those who care the most about the NCP outbreak. Many of them have families and loved ones in mainland China. The WA Chinese community are fully mobilized to make donations or send much-needed medical supplies in immediate response. On 11 February, leaders of over 30 Chinese Associations in Western Australia gathered together and cheered for China and Wuhan from the bottom of their hearts. Some leaders choked with tears before the camera. They chanted: "We are in Perth to cheer for China and Wuhan. Add oil! Add oil!"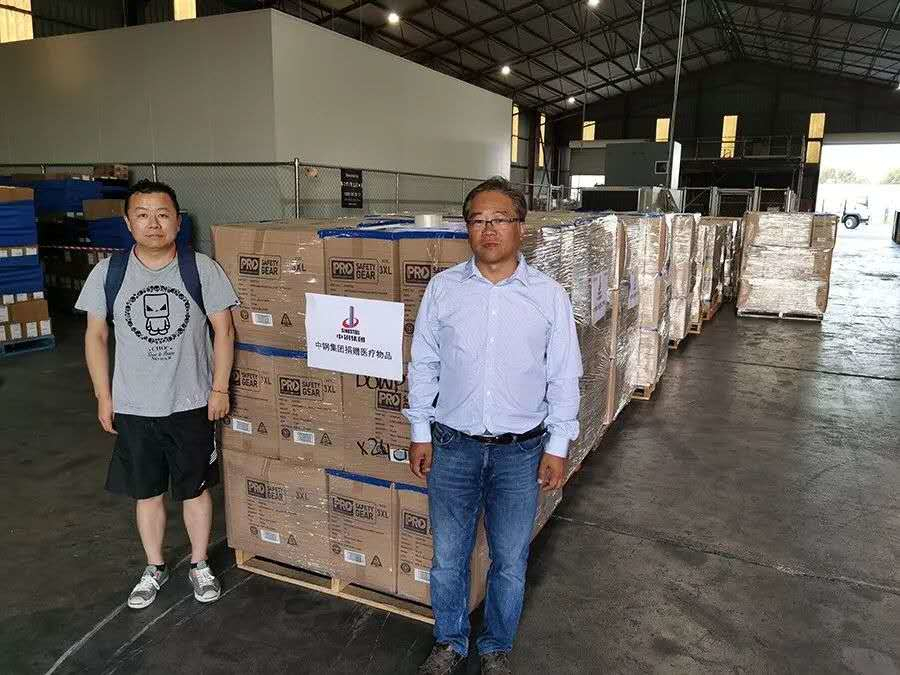 Sinosteel Australia Pty. Ltd.wasted no time and left no stone unturned to collect and deliver most needed protective medical supplies to China by the last China Eastern direct flight from Perth to Shanghai. General Manager Mr. Sun Xiaoxuan said that "though we are abroad, our hearts are with our motherland and hometown. Everyone has spared no efforts to support the fight against the epidemic. We hope we can contribute our bit to this war so that it can be wrapped up at the earliest possible time."
The Australia China Business Council (ACBC) is a membership-based, non-profit, non-governmental organization. With more than 100 members of Australian companies which do business with China, ACBC Western Australia Branch president Mr. Adam Handley and member representatives made a video expressing solidarity with China. "A bosom friend afar brings a distant land near. We know China will triumph over this virus. Add oil Wuhan! Add oil China!"
The Chamber of Commerce and Industry of Western Australia (CCIWA) is a peak employers and business association, with more than 9000 members from local business community. The Chief Executive Officer of CCIWA, Mr. Chris Rodwell, wrote a letter to Chinese Consul General to Perth Ms Dong Zhihua, extending his thoughts and best wishes to all people affected by the epidemic, and wished the relationship between China and Western Australia go much deeper.
FMG Chairman Andrew Forrest and CEO Elizabeth Gains published an article in the West Australian Let's Show Support to China, in which they called for strong support to China:
"as good friends, neighbors and trading partners, the Chinese people deserve Australians' support. China will recover and we must appreciate the country's sacrifices and stand ready to support China however we can, for the benefit of both our peoples....We are confident the Chinese people will rebound with the resilience they have demonstrated time and again over thousands of years and FMG will continue to support China throughout this hardship and beyond."
FMG Chairman Andrew Forrest reaffirmed in a special video that "the dark winter is behind us. There will be challenges but none the Chinese people cannot overcome. Over thousand of years you are resilient and strong and wonderful people. I want you to know that Australia and Australian people stand with you.We have seen each other through crises before, we have seen each other through ups and downs. But a friend in need is a friend indeed. And Australia is your friend and Australians stand with Chinese people like I stand with you. We will get through the virus, we will get through other challenges and we will always be the firmest of great friends."
BHP, another Iron Ore giant with headquarter in Western Australia, donated 10 million RMB to China Red Cross Society for prevention and control measures to contain the epidemic.
CITIC Pacific Sino Iron Project is Australia's largest magnetite mining and processing operation, also the biggest Chinese investment in Western Australia (WA), which has created 3000 direct jobs and generated 7000 indirect employments in WA. The Sino Iron Chinese and Australian staff stand shoulder to shoulder in a video sent from the field in Cape Preston, Northwest of Western Australia, and chanted "Stay strong Wuhan! Stay strong China! We are all with you!"
More than 95% of WA's Rock Lobsters output has been exported to China with daily delivery up to 40 to 50 tons. Suffering the blow from the virus outbreak, the Geraldton Fishermen Co-operative has to suspend its operation. But all fishermen are confident that there will be a quick and big rebound once the epidemic is over. The Geraldton Fishermen Co-operative sent its messages of support to Chinese people. "Chinese people are famous for their strength and resilience.We know that this will pass and the Chinese People will prevail. "
Oberthur Primary School is a public school with more than 600 students, the first WA public school to introduce Chinese immersion language program in Western Australia. It maintains sister school relationship with Xing Zhi Primary School in Hangzhou, China. The students in Oberthur have big loving hearts and they loudly voice their support to China together with their teachers and principal."Add oil Wuhan! add oil China!"
Anna is a year 11 student in Western Australia who has been learning Chinese language ever since Grade 3. She and her family share great interests in Chinese language and culture. In 2018, Anna went to China for Chinese Bridge Competition representing Australia and won championship of the Oceania Region. Anna and her family cheer for China in a video made by themselves.
Western Australia Branch of Australia China Friendship Society (ACFS) was founded in 1972 and has dedicated itself to promoting bilateral communications as well as people-to-people exchanges between the two countries. President Nancy Chen affirmed that the society will do whatever they can to provide assistance to Chinese students, once they are back from mainland China and if they have to undertake 14-day self-isolation.
Many of ACFS senior members are over 80 years old now. They have visited China many times before and have deep feelings towards China and Chinese people. Among them, Susan Moss is a professional photographer and she led a team of photography lovers to China and shot quite a number of fabulous photos last year. Susan and her husband are cheering for China to show compassion:
"I send my best wishes to everyone in Wuhan. Get well soon and back to normal. We love China. The people and places are wonderful. We need to foster the friendship more, getting better and better,closer and closer in every way."
Ever Nature Health Product is a trusted Australian manufacturer and distributor of fish oil, bee products, vitamins and honey. All the products are certificated by TGA, and manufactured in compliance of strict GMP requirement. Being antibacterial and antifungal, its product of jarrah honey is unique to Western Australia which can enhance human immune system. Ever Nature Health Product has already dispatched 20,000 bottles of honey to Shanghai and surrounding region. Mr. Pan Bangzhao, Chairman of the Board of Directors, expressed his wish that the fresh and premium honey will help medical staff fighting at the front line keep strong and healthy.
A friend in need is a friend indeed. We express our heartfelt gratitude to the people of Western Australia. Your compassion and love have greatly moved and invigorated us. We will always remember each and every precious support bestowed to us. We are all living in the global village and our destiny is closely interconnected. The friendship between China and Western Australia will come out of the epidemic sounder and stronger with bilateral cooperation even closer. Let's join hands to fight the NCP, and the rainbow will always show up after the storm.