Winter Always Turns to Spring
2020-09-30 17:54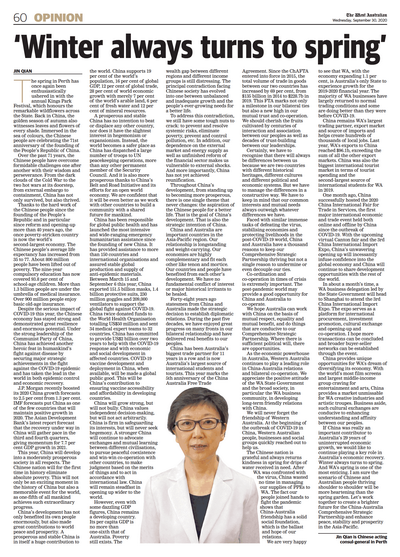 The spring in Perth has once again been enthusiastically ushered in with the annual Kings Park Festival, which honours the remarkable wildflowers across the State. Back in China, the golden season of autumn also witnesses leaves and flowers of every shade. Immersed in the sea of colours, the Chinese people are celebrating the 71st anniversary of the founding of the People's Republic of China.
Over the past 71 years, the Chinese people have overcome formidable challenges one after another with their wisdom and perseverance. From the dark clouds of the Cold War to the two hot wars at its doorstep, from external embargo to containment, China has not only survived, but also thrived.
Thanks to the hard work of the Chinese people since the founding of the People's Republic and in particular since reform and opening-up more than 40 years ago, the once poverty-stricken country is now the world's second-largest economy. The Chinese people's average life expectancy has increased from 35 to 77. About 800 million people have been lifted out of poverty. The nine-year compulsory education has now covered 93.8 per cent of school-age children. More than 1.3 billion people are under the umbrella of medical insurance. Over 900 million people enjoy basic old-age insurance.
Despite the serious impact of COVID-19 this year, the Chinese economy has stayed strong and demonstrated great resilience and enormous potential. Under the strong leadership of the Communist Party of China, China has achieved another heroic feat in humankind's fight against disease by securing major strategic achievements in the fight against the COVID-19 epidemic and has taken the lead in the world in both epidemic control and economic recovery.
J.P. Morgan recently boosted its 2020 China growth forecasts to 2.5 per cent from 1.3 per cent. IMF forecasts put China as one of the few countries that will maintain positive growth in 2020. The Asian Development Bank's latest report forecast that the recovery under way in China will gather pace in the third and fourth quarters, giving momentum for 7.7 per cent GDP growth in 2021.
This year, China will develop into a moderately prosperous society in all respects. The Chinese nation will for the first time in history eliminate absolute poverty. This will not only be an exciting moment in the history of China but also a memorable event for the world, as one-fifth of all mankind achieves such extraordinary progress.
China's development has not only benefited its own people enormously, but also made great contributions to world peace and prosperity. A prosperous and stable China is in itself a huge contribution to the world. China supports 19 per cent of the world's population, 16 per cent of global GDP, 12 per cent of global trade, 28 per cent of world economic growth with merely 7 per cent of the world's arable land, 6 per cent of fresh water and 12 per cent of mineral resources.
A prosperous and stable China has no intention to beat or displace any other country, nor does it have the slightest interest in hegemonism or expansionism. Instead, the world becomes a safer place as China has dispatched a large number of troops to UN peacekeeping operations, more than any other permanent member of the Security Council. And it is also more prosperous thanks to China's Belt and Road Initiative and its efforts for an open world economy. We are confident that it will be even better as we work with other countries to build a community with a shared future for mankind.
China has been responsible for global public health and has launched the most intensive and wide-ranging emergency humanitarian assistance since the founding of new China. It has provided assistance to more than 150 countries and international organizations and assured stable global production and supply of anti-epidemic materials. Between March 15 and September 6 this year, China exported 151.5 billion masks, 1.4 billion protective suits, 230 million goggles and 209,000 ventilators to support the global fight against COVID-19. China twice donated funds to the World Health Organization totaling US$50 million and sent 34 medical expert teams to 32 countries. China has committed to provide US$2 billion over two years to help with the COVID-19 response and with economic and social development in affected countries. COVID-19 vaccine development and deployment in China, when available, will be made a global public good. This will be China's contribution to ensuring vaccine accessibility and affordability in developing countries.
China will grow strong, but will not bully. China values independent decision-making, but will not act arbitrarily. China is firm in safeguarding its interests, but will never seek hegemony. A stronger China will continue to advocate exchanges and mutual learning between different civilizations, to pursue peaceful coexistence and win-win co-operation with other countries, to make judgment based on the merits of things and to act in accordance with international law. China will remain steadfast in opening up wider to the world.
However, even with some dazzling GDP figures, China remains a developing country. Its per capita GDP is no more than one-sixth that of Australia. Poverty still exists The wealth gap between different regions and different income groups is still distressing. The principal contradiction facing Chinese society has evolved into one between unbalanced and inadequate growth and the people's ever-growing needs for a better life.
To address this contradiction, we still have some tough nuts to crack: to prevent and resolve systemic risks, eliminate poverty, prevent and control pollution, etc. In addition, our dependence on the external market and energy supply as well as unfinished reform of the financial sector makes us vulnerable to external shocks. And more importantly, China has not yet achieved reunification.
Throughout China's development, from standing up to becoming more prosperous, there is one single theme that never changes: the aspiration of the Chinese people for a better life. That is the goal of China's development. That is also the strategic intention of China.
China and Australia are important countries in the Asia-Pacific region. Our relationship is longstanding and weight-carrying. Our economies are highly complementary and fit each other like tenon and mortise. Our countries and people have benefited from each other's development. We have no fundamental conflict of interest or major historical irritants to be healed.
Forty-eight years ago statesmen from China and Australia made the strategic decision to establish diplomatic relations. During the past five decades, we have enjoyed great progress on many fronts in our bilateral relationship and have delivered real benefits to our peoples.
China has been Australia's biggest trade partner for 11 years in a row and is now Australia's largest source of international students and tourists. This year marks the 5th anniversary of the China Australia Free Trade Agreement. Since the ChAFTA entered into force in 2015, the total volume of trade in goods between our two countries has increased by 69 per cent, from $135 billion in 2014 to $228.7b in 2019. This FTA marks not only a milestone in our bilateral ties but also a new high in our mutual trust and co-operation. We should cherish the fruits cultivated by centuries of interaction and association between our peoples as well as decades of trust-building between our leaderships.
Certainly, we have to recognise that there will always be differences between us because we are two countries with different historical heritages, different cultures and different political and economic systems. But we have to manage the differences in a constructive way. We have to keep in mind that our common interests and mutual needs always outweigh whatever differences we have.
Faced with similar immense tasks of defeating the virus, stabilizing economies and protecting livelihoods in the post-COVID-19 world, China and Australia have a thousand reasons to keep our Comprehensive Strategic Partnership thriving but not a single reason to undermine or even decouple our ties.
Co-ordination and co-operation in times of crisis is extremely important. The post-pandemic world may provide a good opportunity for China and Australia to co-operate. We hope Australia can work with China on the basis of mutual respect, equality and mutual benefit, and do things that are conducive to our Comprehensive Strategic Partnership. Where there is sufficient political will, there are opportunities.
As the economic powerhouse in Australia, Western Australia continues to play a leading role in China-Australia relations and bilateral co-operation. We appreciate the positive attitude of the WA State Government and the broad society, in particular the WA business community, in developing long-term friendly relations with China.
We will never forget the friendship of Western Australia. At the beginning of the outbreak of COVID-19 in China, Western Australian people, businesses and social groups quickly reached out to help us. The Chinese nation is grateful and always returns kindness in spring for drips of water received in need. After WA was confronted with the virus, China wasted no time in managing our supplies of PPEs to WA. The fact our people joined hands to fight the pandemic shows that China-Australia friendship has a solid social foundation, which is the ballast and hope of our relations.
We are very happy to see that WA, with the economy expanding 1.1 per cent, is Australia's only State to experience growth for the 2019-2020 financial year. The majority of WA businesses have largely returned to normal trading conditions and some are doing better than they were before COVID-19.
China remains WA's largest trading partner, export market and source of imports and helps create hundreds of thousands of local jobs. Last year, WA's exports to China reached $96.1b, exceeding the sum of all the other export markets. China was also the biggest international tourist market in terms of tourist spending and the second-largest source of international students for WA in 2019.
One month ago, China successfully hosted the 2020 China International Fair for Trade in Services, the first major international economic and trade event held both online and offline by China since the outbreak of COVID-19. With the upcoming virtual Canton fair and the 3rd China International Import Expo, China's unwavering opening up will incessantly infuse confidence into the global economy and China will continue to share development opportunities with the rest of the world.
In about a month's time, a WA business delegation led by the State Government will head to Shanghai to attend the 3rd China International Import Expo. The expo serves as a platform for international procurement, investment promotion, cultural exchange and opening-up and cooperation. I hope more transactions can be concluded and broader buyer-seller networks can be established through the event.
China provides unique opportunities for WA's dream of diversifying its economy. With the world's most film screens and largest middle-income group craving for entertainment and arts, China provides a market unmissable for WA creative industries and artistic troupes. Business aside, such cultural exchanges are conducive to enhancing understanding and affinity between our peoples.
If China was really an important contributor to Australia's 29 years of uninterrupted economic growth, we would like to continue playing a key role in Australia's economic recovery. Winter always turns to spring. And WA's spring is one of the most enticing. I am sure the scenario of Chinese and Australian people thriving shoulder to shoulder will be more heartening than the spring garden.
Let's work together to create a brighter future for the China-Australia Comprehensive Strategic Partnership and enhance peace, stability and prosperity in the Asia-Pacific.